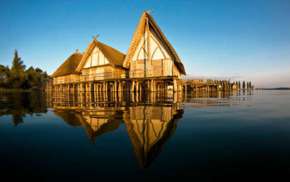 Sunken worlds become visible again: Reconstructed Pile Dwellings of the Stone and Bronze Age in Unteruhldingen.

Situated in the middle of the oldest nature reserve at Lake Constance, the Lake Dwelling Museum Unteruhldingen shows 23 pile houses modeled and furnished according to the latest archaeological findings and research.
Built on piles, the same way they were constructed in the Stone and Bronze Age (4000 – 800 BC), the houses can be visited during guided tours that are offered by the Museum.
Archaeological excavations at Lake Constance and in Upper Swabia provide the scientific basis for the Open Air Museum Unteruhldingen. They have been ongoing since 1864. All important excavation sites – Bad Schussenried, Bad Buchau, Unteruhldingen, Konstanz, Hornstaad, Arbon and Sipplingen – are present in the Museum's permanent exhibition with their original finds. In the Open Air area, these finds are incorporated into the construction of the dwellings.
The Museum was founded in 1922 by the Society of Lake Dwelling Archeology, which still operates the Open Air Museum and an associated research institute. Valuable original finds, but also authentically reconstructed models that can be touched and handled, impressively illustrate life 6000 to 3000 years ago.
How did they live? How old did they get? How about cult or religion?
In the "House of Questions" or at "the delphi project" you will find the answers.