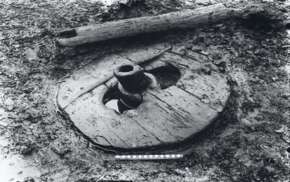 Find of a Bronze Age oakwood wheel in Bad Buchau
Lake Dwellers were already mobile 5000 years ago
Finds were only preserved thanks to mud and moors.
The unique importance of the World Heritage pile dwelling sites can be attributed to the exceptionally well-preserved organic material like wood or textile that was buried deeply in the mud and the moors, in the waterlogged deposits absent of any air.
For example, after a village fire – fires were frequent occurrences during those times – entire house inventories or structural components collapsed. They were flooded and instantly imbedded into the muddy soil. The compost piles in those times are today a true Eldorado for archaeologists!
The compost piles provide a representative cross section of the material goods common to a household.
At Zurich, Leibach and in Upper Swabia, remains of the oldest wheels and carts known to date were preserved in these soil layers. Reconstructions, but also original finds of wooden artefacts, can currently be seen in the Lake Dwelling Museum at Unteruhldingen.
More information at: www.pfahlbauten.de